Introducing
The one and only Belly Bib. The upside down dog coat designed to keep your dog's underbelly clean, dry, & warm all year long. Whether it's leaves, splash ups, mud, burrs or snowballs that've got you down, our durable and waterproof Belly Bibs will have you loving your walks again!
Eco-Friendly. Made in Canada. Waterproof.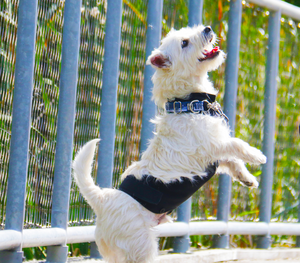 Sleek + Smart Design
Full Coverage
Keep them clean and dry on their biggest problem areas.
Less clean up time. More bonding time.
Shop Belly Bibs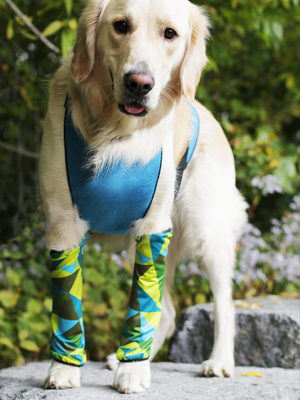 Attachable + Matching
Leggings
The same great waterproof qualities as the Belly Bib. Attach a pair of Leggings for full coverage from burrs, splash ups and more.
Shop Leggings
Made in Canada
Our products are made, designed, and dreamed up right here in Toronto, ON. Supporting local to make a difference.
Shop Locally
100% Eco-Friendly
Every Belly Bib is made from up to 23 recycled plastic bottles, so you can shop consciously while living comfortably.
Shop Eco Friendly
100% Waterproof
With fabric made from three layers including a protective middle film, your dog will stay completely clean and dry.
Shop Protection
Belly Bibs
Comfort + Style
Available in 6 beautifully hued colours with a luxuriously soft micro fleece lining and a durable outer layer that is sure to fight the elements.
Shop Now
Our Mission
T.O. Dogswear's mission is to help you love your walks again! Forget choosing between a filthy dog or no walk at all. We created a line of dog clothing designed to keep your dog clean, dry, and warm no matter what season or weather condition! Our dog coats and dog leggings are the ultimate protection to keep your dog clean. Shop our dog belly covers or find us in store.

GET DIRTY, STAY CLEAN.
What our customers are saying...
Perfect, absolutely LOVE it!!!
This is the perfect, lightweight solution for keeping our small dog clean! Ideal for all seasons! We walk our little pup in the woods and her belly use to get covered with burrs. Now with the Belly Bib her coat is protected and it saves us time not having to pick out the burrs. Our pup normally does not like coats but the Belly Bib is so light weight she is not bothered by it at all.Thank you T.O. Dogswear for designing a fabulous product!!!

Tracy F.
Belly Bib
Good quality light weight product. My fussy pup actually seemed quite comfortable wearing this. An excellent idea I feel for not only controlling belly dirt but combining this with the leggings will hopefully add further protection from ticks. As well as the product satisfaction, the service was excellent as well. A pleasure doing business with this company!

Lynne C.
Love our bib!!!
We love our belly bib on our walks during the rainy days. I have a corgi and because of her height her belly is always super soaked when we come home on a rainy day. It's a great waterproof material that keeps her belly dry and also light so it doesn't bother her when I put it on and when she walks in it. Can't wait to use it when winter hits and the slushy season begins. We definitely recommend it!

Olivia N.
Eco Belly Bib
Excellent customer service experience and speedy delivery of item. The item is well constructed and user-friendly

Georgie W.
Love it!
It is so easy to use and during the last rainy weekend kept my dogs dry and warm!

Jan K.
Thank you!
The eco bib is the only clothing that our dog will wear. He runs away when he sees his winter coat, but sits calmly when we put the bib on him. It is lightweight and fits well. It has made a difference in terms of keeping him clean.

Anonymous
Fits perfect
This is so perfect for us! Our dog is a mini doxie, and - because he is such a low rider - the moment we step out on a rainy day, he is soaked. This solves this problem! Super light weight and comfortable for our dog.

Evelyn K.
Eco Belly Bib
The product is as good as the service.

Anonymous
Great
These are excellent quality and super easy to put on our dog. She is not restricted in movement. Also thank you for your help when you received my order. The changes in size you suggested were perfect.

Anonymous
Read More
Dog Clothing Online
We know what it is like when you have a four-legged friend to enjoy the outdoors with – it can be liberating, fun and exciting. However, when you factor in the muddy trails, forests and fields, sand, snow, and every other type of landscape we take our dogs walking and running in, the clean-up operation can be frustrating. Here at T.O. Dogswear, we are a mother-daughter team, who have always had several dogs in the family – and trying to find the right type of dog clothing that offered protection from the dirt and allowed our pets to run freely was so difficult that we decided to design it oureselves. With three small dogs, our exciting walks had to finish with three baths a day or the risk of a filthy house!
Tynk Outdoor Dogswear – The Home Of Dog Clothing In Canada
They say necessity is the mother of invention – well, we needed to find dog clothing online or in-store that kept our beloved dogs clean and dry, while ensuring that they were sustainably produced and environmentally friendly. This seemed to be impossible, so we took to the drawing board to make our own.
We wanted to create a range of functional dog apparel to keep them clean that would allow free movement – no restrictions, just dog coats that would make it easier to prevent the daily baths that follow a countryside walk through the dirt roads, sandy beaches and forest trails that we love so much.
We discovered that the best way to keep dogs clean and dry while allowing them freedom of movement was to protect the areas that got the sandiest, picked up the most burrs, and tended to get covered in mud – so the Belly Bib was invented.
Why Is The Belly Bib Better Than Other Dog Coats To Keep Them Clean?
The Belly Bib is more than just a waterproof dog coat, it is a meticulously designed and constructed item of dog clothing that really works.
Created to allow freedom of movement – with just two straps around the back and the neck that are fully adjustable with Velcro – it is comfortable and not restrictive, so even dogs who have previously found a dog jacket unwearable seem to feel the Belly Bib is much more comfortable – as if they are not wearing a dog coat at all.
We have focused on creating an entire business that is built on being environmentally friendly, focusing on sustainable business practices – and that is why we are proud to offer dog clothes in Canada that are made from recycled single-use plastic bottles. In fact, our larger Belly Bibs are made from 23 plastic bottles!
The outer layer is waterproof and windproof, so it is the ultimate protection from all the muck that your pup could get covered in during your dog walks– and don't worry, it is machine washable. We love the microfleece lining that makes it extra comfortable for your dog to wear, as well as super snuggly. It is breathable, dries quickly and is available in a wide range of colours to suit your style – and the style of your dog, too!
We are rightly proud of our Belly Bib, designed and manufactured right here in Canada – and we are confident that you and your four-legged family will love it too. Find the best options to buy dog coats in Canada with T.O. Dogswear.
Buying Your Dog Apparel Online With T.O. Dogswear
We have created the Belly Bib to be forgiving, so it can fit dogs of all shapes and sizes. Our smallest Belly Bib is suitable for toy breeds, and the largest will comfortably fit an Australian Shepherd – and with Velcro connectors to extend the length of the straps, you can adjust it for ultimate comfort, making it a versatile choice for coats to keep your dogs clean no matter what size they are.
Have a look at our sizing chart which tells you what breeds and the respective measurements for each size – as well as the number of plastic bottles that were recovered from landfill to create your dog outfits. We understand that sizing can be difficult, especially with a mixed breed, so we have some options to make it simpler. If you buy the closest size and the straps are a little small, you can purchase Extender Straps in the matching colourway, which suits oddly shaped or more chunky dogs. These are easy to use and simply attach via Velcro.
Of course, if you find the size is completely wrong, simply return the Belly Bib to us in it's original condition and we will exchange it for you at no extra cost - we offer free return shipping on size exchanges.
When you buy a dog coat from us, we have a variety of shipping options depending on your location. For Canadian customers, we can offer free Standard shipping on all orders, which takes 2-10 business days, but is untracked. If you need it quickly, we can offer Expedited Shipping, Xpresspost or Priority at an extra cost. The shipping costs will be calculated at checkout. For our US customers, we offer free Standard Shipping on orders of $50 or more and $4.99 Standard Shipping for orders less than $50, as well as Expedited Parcel USA, Small Packet USA Air, Tracked Packet USA or Xpresspost USA – but remember that any fees for international shipping will need to be covered by you as the customer.
Get Your Dog Clothes Online & Enjoy The Great Outdoors With Your Dog – Without The Mess!
T.O. Dogswear is all about giving your dogs the freedom to enjoy their walks – and their owners the reassurance that there won't be a need for a bath every time. Buy a dog winter coat online from us and not only will you have a well-made, cleverly designed and environmentally friendly Belly Bib, you can also add a pair of Leggings for the ultimate underbody protection.
Our durable dog vests are machine washable and quick drying – so after a long, fun, muddy walk, simply put the Belly Bib in your washing machine, or just let it air dry and brush off the dried dirt later. Then, wipe down your dog's paws and legs, if they aren't wearing the Dog Leggings, and you no longer have to worry about a filthy house!
We know that you will love the Belly Bib as much as we do – with our dogs at home we cannot imagine going back to multiple baths a day!
Choose T.O. Dogswear for your dog clothing shop and say goodbye to muddy bellies!
Read Less